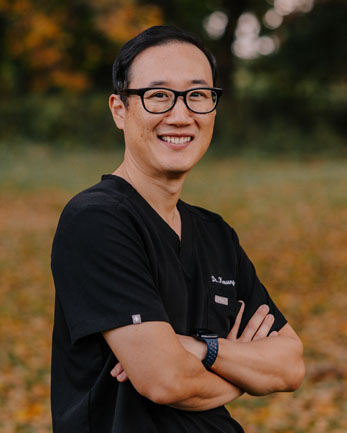 After moving to Virginia from chilly Alaska, Dr. Keusung Yun is proud to call Harrisonburg his new home. On a visit to a lavender farm in Shenandoah valley, Dr. Yun and his wife fell in love with the area and decided it would be the perfect place to grow their family. Their newborn baby girl arrived in December 2017, and they couldn't be more excited about their future in Virginia.
In one word, Dr. Yun's philosophy in dentistry is "compassion". Providing compassionate care and world-class results are the goals of his practice, a standard he has upheld since graduating dental school at Loma Linda University in 2009. Dr. Yun is equally passionate about learning and has made great efforts to keep on top of new information and technology in the industry. Over the last 3 years he has taken over 500 hours of continued education - and doesn't plan to stop there. He is a part of the Dr. Phelan Seminar Study Club, AGD, and AAID with extensive training in implants, IV sedation, and root canals.
When he is not striving to provide the best dental care in Virginia, Dr. Yun is outside taking in the beautiful walking trails of the valley, spending time with his family, reading, and being an active member of his church.